Deska DAMSKA
KSZTAŁT: Directional
3BT: FREERIDE 3BT with SIDE KICK!
PROFIL: Dynamic Camber
RDZEŃ: Light Core
ŚLIZG: Hyper Glide S
TOP: TRI AX Laminate
FLEX: 5
WSTAWKI KARBONOWE: D.S.T., ukośne od wiązań do nose i tail
Przeznaczenie: Allmountain, Freeride
STORM:
To deska dla prawdziwych wyjadaczek na stoku i poza trasą! Najwyższej jakości materiały (rdzeń, ślizg i wstawki z karbonu), dość wysoka sztywność (5), dodatkowe "back seat inserts" (do ustanienia mega seatbacku na wiązaniach)!
KSZTAŁT DESKI:
Deska typu DIRECTIONAL - inserty przesunięte do tył - dłuższy nose i krótrzy tail
RODZAJ 3BT:
Wszystkie deski Bataleon Snowboards mają opatetntowaną technlogię wygięcia ślizgu - 3BT (więcej tutaj: http://www.boardstore.pl/BATALEON-3BT-TECHNOLOGIA-KTORA-DZIALA-cinfo-pol-96.html ). W zależności od przeznaczenia deski szerokość i długość samego wygiecia się różni. W desce STORM zastasowany jest FREERIDE 3BT - dość wąska część płaska ślizgu, podniesienie ślizgu zaczyna się już pod wiązaniami, ideale na puch i szybkie przechodzenie z krawędzi na krawędź.
SIDEKICK:
Nowy system SideKick zwiększa jeszcze bardziej korzyści profilu 3BT, jakich wcześniej na nim doznałeś. Side Kick dramatycznie zwiększa podniesienie krawędzi w najszerszej części nosa i taila. To sprawia, że inicjacja skrętów jest jeszcze gładsza, zwiększa wyporność w puchu i prowadzenie deski w trudnym terenie
Na wprost - Podczas jazdy na płaskiej części śligu tylko część środkowa jest na śniegu, dzięki czemu deska jedzie szybko i prosto bez haczykowatych ruchów lub łapania krawędzi.
Inicjacja skrętu - Przy niewielkiej sile nacisku i małym kącie, boki deski zaczynają się zbliżać do wiązań, ale moc pozostaje stale wzdłuż krawędzi styku.
Na krawędzi - Gdy jedziemy na krawędzi dzięki kształtowi 3D, krawędź tworzy pełny łuk ze śniegiem, przez co oferuje niezrównane i mocne trzymanie krawędzi.
RDZEŃ:
LIGHT CORE - rdzeń deski zrobiony z drewna topoli i paulowni w proporcjach 50/50 tak aby zapewnić odpowiedni stosunek wagi do wytrzymałości.
ŚLIZG:
HYPER GLYDE S - klasyczny spiekany ślizg - szybki i twardy i jeszcze szybszy jak często smarowany ;)
TOP GLASSING:
TRI AX LAMINATE - potrójny zaplot z włókna szklanego dodaje sztywności i responsywności w desce.
SUPERTUBES:
SUPER TUBES – karbonowe rurki wstawiane w core deski umożliwiające "odchudzenie" deski z wagi przy zachowaniu takkiego samego flexu oraz zapewniające lepszą sprężystość!
DST (Dual Super Tubes) – karbonowe rurki wstawione są między wiązaniami przy krawędziach, dzięki temu deska ma lepszy POP i jest bardziej spężysta.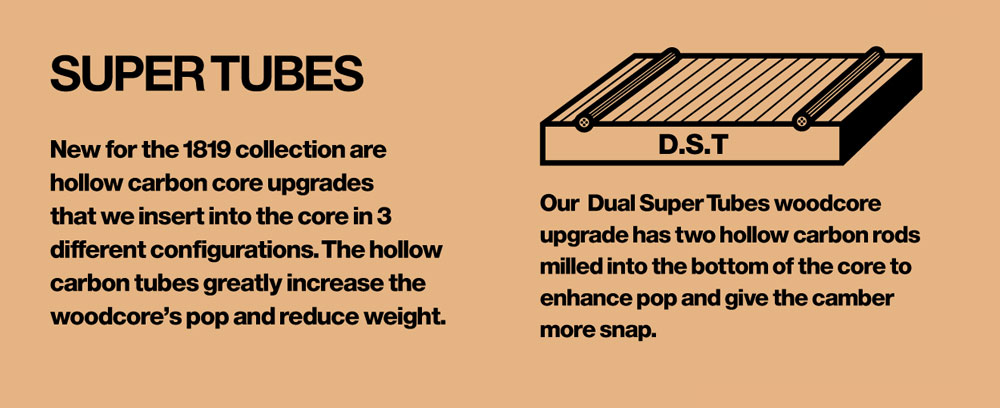 WSTAWKI KARBONOWE:
Wstawki karbonu od wiązań w strone nose pod kątem dość szeroko oraz od wiązań w stronę taila z mniejszym kątem. Dzięki takiemu umiejsowieniu karbony deska usztywnia się na tailu oraz zwiększa swoją sztywność poprzeczną i responsywność jednocześnie zachowując dość miękki nose.